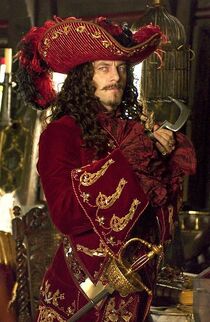 James Hook is a character used by Nicholas and Cole in 2012, 2013 and now 2016. He is based on the character of the same name from J.M Barrie's Peter Pan.
Hook had his hand cut of by Peter Pan in the book. He gave himself an Iron Hook. He got the idea from his last name, Hook.
Escaping the Crocodile
Edit
After falling into the crocodile's stomach in Peter Pan, Hook mysteriously escaped. It is still unknown how he escaped, but that when he did Peter Pan had left Neverland for unknown reasons. He captured Tinker Bell and with his friend, Captain Punch, he set off around Neverland to go on many adventures, even though he was still being chased by the Croc!
In the Black Castle, Hook was trying to escape the Crocodile and hid above a monster statue's claw. The Crocodile bit the claw and it smashed. Hook fell into it's jaws and died.